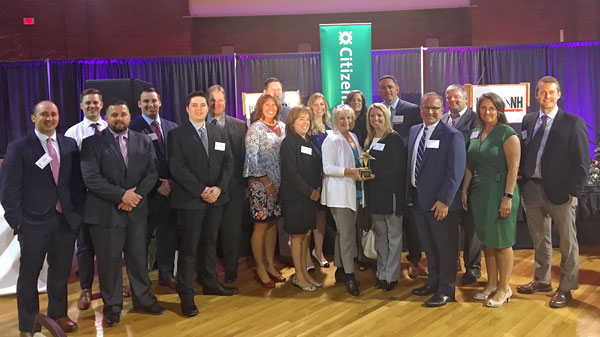 06 Mar

2019 Year in Review: From Lightsabers to Business of the Year!

We're excited to share with you our 2019 Annual Report. Capturing many aspects of our agency, this report sheds light on our company culture, history, geographical reach, philanthropic/community impact, services, civic engagement, educational achievements, as well as awards & recognitions.

Please take a moment to look through the report – we're proud of what we accomplished this past year, and are well aware that it could not have been possible without our valuable team members, customers, and carrier partners. Thank you to all those who took part in making 2019 the successful year it was.

Want a sneak peek? One highlight was certainly our Manchester, NH office receiving the title of Business of the Year by Business New Hampshire Magazine! Take a look:

Want a sneak peek? One highlight was certainly our Manchester, NH office receiving the title of Business of the Year by Business New Hampshire Magazine! Take a look:
2019 Award Announced in May
Congratulations to our team in Manchester NH for receiving the prestigious title of the 2019 Business of the Year in the Financial Services/Insurance Category by Business NH Magazine! We are especially proud of our Manchester team, since this award recognizes outstanding civic contributions and exceptional performance within their industry sector.
The competition and awards event are a partnership between Business NH Magazine and the NH Association of Chamber of Commerce Executives.
Bret Cote, VP, NH & MA Sales Manager, stated, "We are thrilled to receive this prestigious recognition. I've seen this award be presented to other groups in our community in the past and for Clark Insurance to receive it now is a testament to the professionalism and commitment we bring to both our industry and community involvement. I couldn't be more proud of our group – this really was a team effort."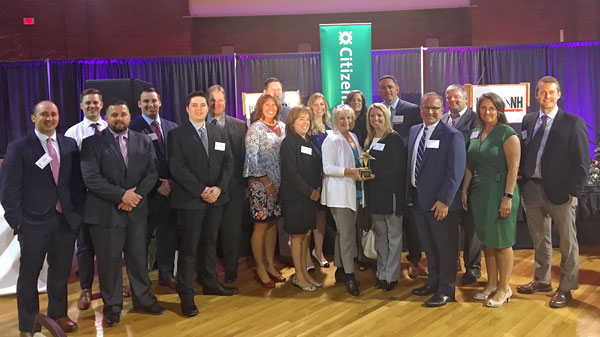 Pictured is the Clark team shortly after receiving the title of Business of the Year! Congratulations to all the recipients of the Business NH Business of the Year Awards and a special shout out to Business NH Magazine for their work in putting on yet another fantastic awards ceremony. It is an honor to be included among this group!
Clark Insurance/Manchester, NH
In 2007 we opened our Manchester Office and have since moved our office three times to accommodate our growing number of customers and team, now located at One Sundial Avenue Suite 302N. Today, our commercial insurance services, employee benefits, and personal insurance services serve the entire Merrimack Valley from the headwaters at Lake Winnipesaukee, through Concord, Manchester and Nashua, NH and on to Lowell, Lawrence, Haverhill and Newburyport, MA.
Meet our NH team
Bret Cote, VP/NH & MA Sales Manager
Collin Cassidy, Account Manager
Allison Gould, Senior Account Manager
Kevin Marceau, Account Manager
Ann Morse, Senior Account Manager
Jeff Moynihan, Account Executive
Michael Ng, Account Executive
Adam Paprocki, Account Executive
Jen Paquin, Account Manager
Nancy Poulin, Account Manager
Monique Ruth, Account Executive
Jessica Thamm, Account Manager
Well done, all!
All award winners were featured in the May 2019 issue of Business NH Magazine and were recognized at the awards ceremony held in Manchester on May 30th, 2019.
Business Leader of the Year
Harold Turner, CEO of The HL Turner Group in Concord
Businesses of the Year
Business Assistance Organization – Vested for Growth in Concord
Business Services – Eversource in Manchester
Construction/Engineering – Warrenstreet Architects in Concord
Nonprofit – Riverbend Community Mental Health in Concord
Financial Services/Insurance – Clark Insurance in Manchester
Health Care – Cornerstone VNA in Rochester
Hospitality/Tourism – The Red Arrow in Manchester
Manufacturing/Technology – S. Badger Company in Gilsum
Retail/Wholesale – CCA Global Partners in Manchester
Education – Nashua Adult Learning Center in Nashua
Congratulations to all award winners on this well-deserved recognition!